Welcome to No Excuses University @ Rolando, where we are "on the road to college" through maximizing the successes of each and every child every day.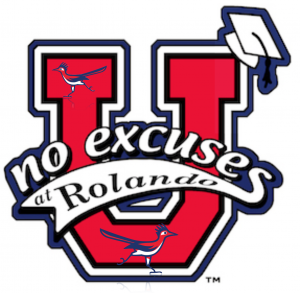 The mission of Rolando Elementary School is to build a strong academic foundation by providing an instructional program which emphasizes high standards of achievement. As La Mesa-Spring Valley School District's first No Excuses University, we are committed to fostering a positive school experience for every child by creating a school that knows no limits to the academic and social successes of each student. We have a passion for developing and maintaining a positive school climate that nurtures to fulfillment the potential of all students, critically and thoughtfully implementing research-based strategies to maximize student learning, and doing what is right for students, while promoting lifelong learning. This year we are bringing the Arts back to Rolando with dedicated music, dance, and art teachers. The best gift we can give our children is to teach them to love challenges, be intrigued by mistakes, enjoy effort, and keep on learning (Carol Dwek).
The teachers, staff, and I are dedicated to seeking out innovative approaches to teaching, learning, collaboration, and parent involvement. We believe that educating a child is always a partnership between home and school. To foster your child's success in school, our open door policy encourages volunteer involvement in many ways, i.e. communicating with your child's teacher on a regular basis, supporting classroom expectations at home, reading to and with your child at home, and helping with homework are simple, yet effective ways you can be an active parent. All parents are invited to join our P.T.A., help with special events, attend school functions such as Back-to-School Night and Open House, and attend parent conferences. Parents can also help out by offering to serve on the School Site Council (SSC) or English Learner Advisory Committee (ELAC). Volunteers are always welcome at Rolando. Our goal is to work together to ensure every student's success.
Rolando is a PeaceBuilder and Character Counts school. We practice what we learn by building peace in many ways. We praise people, give up put downs, right wrongs, notice hurts, seek wise people, and help others. We also focus on building positive character traits, such as trust, responsibility, respect, fairness, caring, and citizenship.
I hope you will stop in and introduce yourself if we haven't already met; I look forward to meeting each and every member of our Roadrunner Community. My door is always open.  Please don't wait to call or contact us with your questions, praise, or concerns you may have. 
Warmly,
Mrs. Suffield, Principal
noelle.suffield@lmsvschools.org
(619)668-5800 (x2599)