Principal's Message
Hello Parkway Families!
It is my pleasure to welcome you to the 2020-2021 school year.  My name is Jacob Ruth and I am the new principal of Parkway Middle School. I am excited to get started as the new school leader, meet students and families, and guide Parkway in continuing to be the great school it has been for so many years! 
On behalf of all of us at Parkway Middle School, we want to welcome all returning families as well as our new families to Parkway. The coming year is going to include some challenges as we continue to face COVID-19 as a community and do everything we can to create the best school experience, despite the circumstances. We are currently crafting plans and procedures that address public health guidelines and that allow for effective learning to take place, regardless of school structures. Communication during this time is paramount and we will be sending out information on a regular basis during the summer to keep the community informed.
At Parkway, your child's education is our priority.  A great education comes from strong school and parent relationships. We aim to be a full partner in your child's education at Parkway. So, feel free to stop by the front office any time if you have any questions/concerns or email me at: jacob.ruth@lmsvsd.net
Have a great day!
It is great to be a Parkway PATRIOT!
– Jacob Ruth
Distance Learning Schedule
Following is our Distance Learning Schedule. Students have Zoom classes every day of the week, as well as the opportunity to attend Office Hours via Zoom.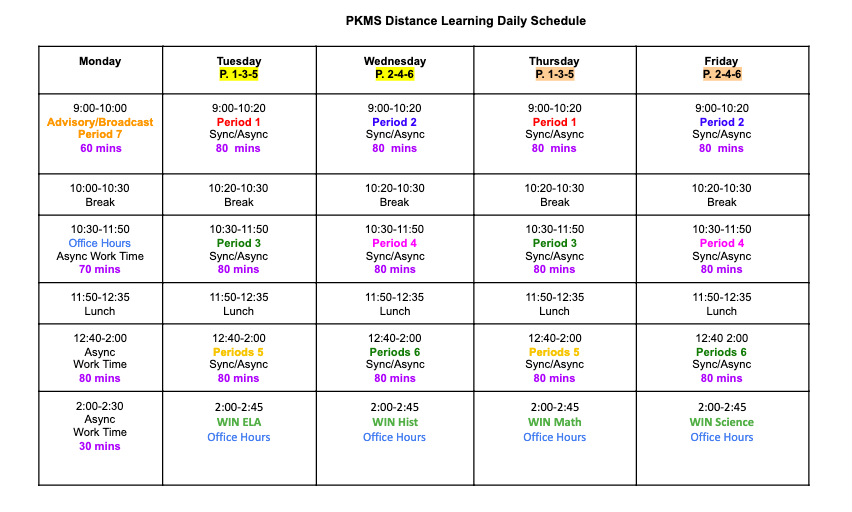 Procedure for Accessing Google Classrooms and Zoom Links
Students will open Google Classroom and join/accept all classes (Periods 1-7)
Video #1 – Logging-in to Google
Video #2 – Accepting a Class in Google Classroom
Video #3 – Adding a Class and a Few More Google Classroom Details
After accepting/joining each class, students will CLICK into each classroom – ZOOM Links for each period will be posted in Google Classroom stream and/or in the weekly planner.
Video #4 – Where to find ZOOM Links in Google Classroom
Please attempt the use of Google Classroom. All work/zoom links/resources will be posted and accessed through Google Classroom.
*ZOOM Virtual Video Conferencing – How to join a ZOOM call?
Zoom/Synchronous Behavior Expectations
Zoom/Synchronous Behavior Expectations
Attendance and Grading Expectations
We will be taking attendance each period during the Synchronous/Zoom portion of the class. Students are expected to attend all Synchronous/Zoom sessions/all periods. Academic and Citizenship grades will be assigned and a report will be sent home connected to Distance Learning.
If you can't access Synchronous/Zoom at any point during the day, please call the school office at (619) 668-5810 to make sure we know your family/student is having technology issues.