Spring Break Program 2021
The ESS Spring Break Program is now open for enrollment. Spring break begins on Monday, March 22nd, and runs through Friday, April 2nd. ESS will be closed on Friday, April 2nd. The cost is $150 per week for one child, $135 per week, per child for two children, and $125 per week, per child for three or more children. If you wish to enroll, you may do so by logging onto your account at lmsvschools.ce.eleyo.com.
The deadline to enroll for spring break is Friday, March 5th at 11:59 p.m.  Enrollment requests submitted after that date and time will be subject to space availability and a $20 late enrollment fee. Payment for the first week of the Spring Break Program is due March 8th. See the ESS billing calendar for more information.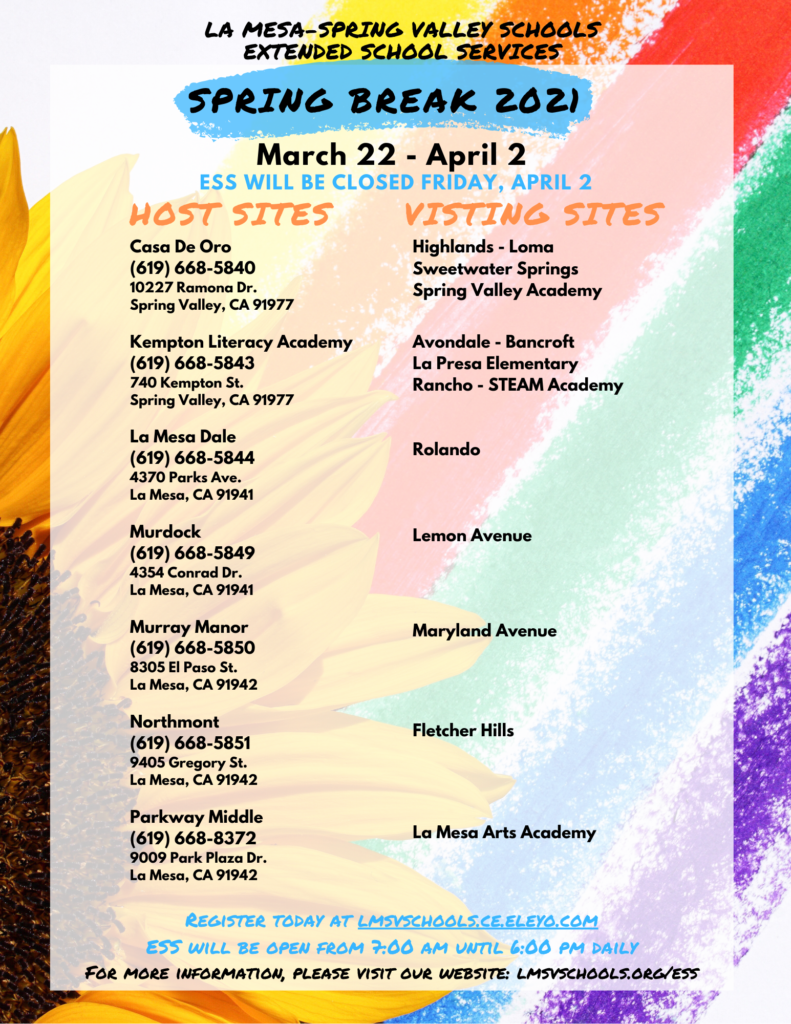 Tentative 2020/2021 Break & Non-School Days
ESS will be open for the fall, winter, spring, and summer breaks! During these breaks we offer several exciting and enriching activities throughout the day. We also believe that children should have the opportunity to visit a variety of places and participate in various activities throughout San Diego County. The cost of these trips is included as part of your weekly fees.
Breaks are optional and must be signed up for separately. You must sign up for the break seasons via your Eleyo account. You may choose to use any or all sessions. If you elect to attend any of the break sessions and then discover that you do not need them after all, you must contact the ESS Billing Department at the District Offices and cancel at least one week before the session starts to avoid being charged. Informing the ESS site that you wish to cancel is not sufficient.
If you reserve your spot after sites are full, you will be put on a waiting list for spots as they become available. During the breaks, sites will be combined. Your ESS program may not be at your home site.
ESS will be open from 7 AM to 6 PM daily during the breaks. Students from other areas/districts may attend the ESS program during break time. Afternoon snacks will be provided daily. Check with your Site Lead for more information on daily activities.
20/21 School Year Breaks
ESS will be CLOSED for the Thanksgiving Break, Monday thru Friday, November 23rd-27th, 2020.
ESS will be OPEN for the Winter Break, December 28th – December 31st, 2020.
ESS will be closed December 21st-25th and Friday, January 1st. No AM only or PM only rates available.
ESS will be OPEN for the Spring Break, Monday, March 22nd, thru Friday, April 2nd, 2021. ESS will be closed on Friday, April 2nd in observance of the spring holiday.
ESS will be OPEN for the Summer Break, Monday, June 21st, thru Friday, August 6th, 2021. ESS will be closed on Monday, July 5th, 2021 in observance of Independence Day.