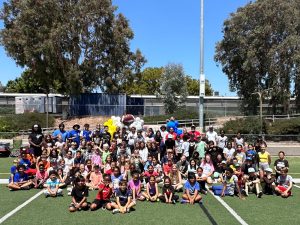 The La Mesa-Spring Valley Schools' ESSPN Sports League will be partnering with NFL's Los Angeles Rams franchise, beginning in the summer of 2023 and continuing into the 23/24 school year and beyond.
The parties celebrated the partnership with a Rams Day kick-off event at Parkway Sports & Health Science Academy on Wednesday, June 28th.
During Rams Day, youth in the district's ESS Summer Sports Camp program had the opportunity to participate in offensive and defensive football drills, meet the ESSPN coaches, and receive free LA Rams merchandise.
ESSPN is a sports league that is part of the district's Extended School Services (ESS) program, which provides before and after-school activities and opportunities for students.
"This is only the start of what we hope will be a long-lasting partnership that creates opportunities for the youth in our community," says Jennifer Montez, Extended School Services Manager for La Mesa-Spring Valley Schools. "We may even have a visit to Sofi Stadium together in the near future!"
Rams Players To Visit During The Fall
The summer event serves as a kickoff to introduce the partnership to students and staff. The ESSPN league will see visits from Rams players and representatives sometime this fall, coinciding with the path to the regional and national flag football tournaments.
Jerseys, Equipment, and a Chance For a National Stage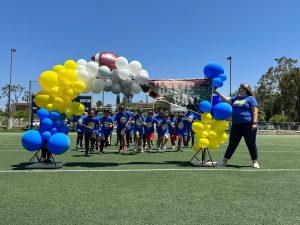 The schedule and rules for the LMSV ESSPN Rams League remain the same as the district's existing ESSPN program, with all participants wearing Rams Reversible Flag Football jerseys. The Rams will provide jerseys, flags, and footballs for all schools, and will host a mid-season ESSPN flag football tournament.
The winning team from a select age division of this tournament will advance to compete in the Rams NFL Flag Football Regionals, with a chance to compete in the NFL Flag Football National Championships in Las Vegas during the NFL Pro Bowl. Additionally, the Rams will visit a suggested La-Mesa Spring Valley School site to host an annual camp for the LMSV ESSPN Rams League.
ESSPN League Supports Children & Communities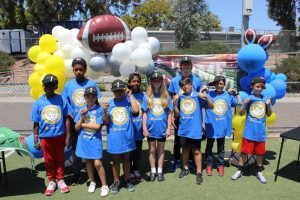 "It's hard to put into words the impact that ESSPN has had on our students," says Deann Ragsdale, Assistant Superintendent for Educational Services. "Returning from the pandemic we knew that we needed to create pathways for students to build connections back to school and their school community. ESSPN created a bridge for students who didn't have one. I am so proud of ESSPN and our team of ESS staff who make these opportunities possible for children."
Adds LMSV Board President Rebecca McRae, "The joy and enthusiasm our children experience as part of ESSPN, partnered with the critical social-emotional skills they are learning through this program, are creating a lifelong impact for our students. Our School Board has been proud to be part of the development and support of this innovative program."
The event was also conducted in collaboration with SheRocks, a San Diego girls' flag football league" designed to promote the whole development" of its players. SheRocks coaches and players joined the ESSPN group at the kickoff event.
Says LMSV Superintendent David Feliciano, "Because it's so incredibly meaningful to our students, our ESSPN-after-school sports league is something I brag about whenever I get the chance. It's not a sports program that happens to incorporate social-emotional learning, rather it's a social-emotional learning program that uses sports as a tool to reach our students and meet them where they are. ESSPN gives our students hope and self-confidence, and teaches them that they can do great things."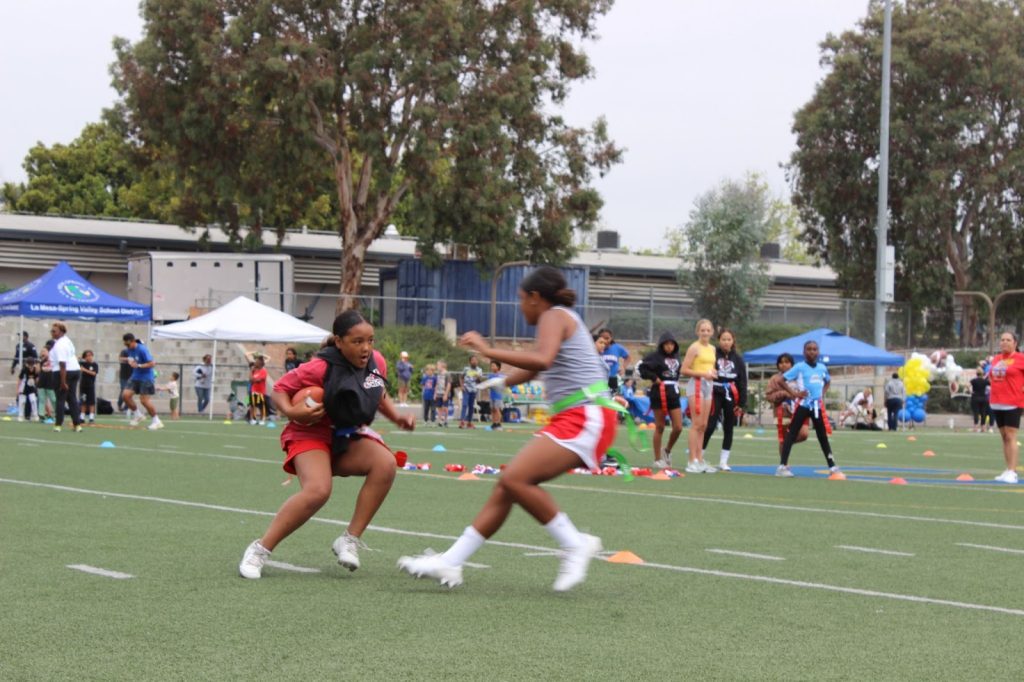 To learn more about ESS in La Mesa-Spring Valley, or to speak with ESS Manager Jennifer Montez, click here.